Owning a business like The
HomeShed
has been a dream of mine for several years. In many ways, my business has exceeded my dreams – it is more fun and more fulfilling than I ever thought possible.
But it's also hard. Harder than I thought it would be.
One of my
facebook
followers asked, "How do you not get discouraged when people don't flock to your shop?"
My first response was,
Not at issue! We've had such a great response to The HomeShed that I'm always happy!
But that's not exactly right. It's true that during our first sale, our sales were double our goal. And our second sale, our sales were double the first sale! I was flying high and loving life.
And then June came around, and our June sale was lackluster. I think our sales were
almost
at the point of our first sale. I was so disappointed – I expected each sale to get better.
How did I handle it? Well, it was definitely sobering and depressing. I analyzed it and overanalyzed it for weeks.
In the end, I decided to focus on the good things – many of our customers were repeat customers, I was proud of the furniture pieces I'd done for that sale, and we had three months before the next round.
---
But it is for this reason that I'm glad that I do not rely on The
HomeShed
as a source of income. For me, right now, it is only for fun, to challenge myself, and to provide a creative outlet. If I really needed to make a certain dollar amount from my creative business, I'm sure that would change things a lot.
---
Another
Facebook
fan asked how I balance it all.
Not very well
.
That's why I LOVE that I have a break between sales. It keeps me excited and keeps me from getting burned out. The Monday after a sale weekend has officially become a "stay-at-home-and-do-nothing" day because the entire week before a sale is crazy busy.
I have started pre-planning a bit more to make sure my family is taken care of the week before a sale. I'm not a regular meal planner, but planning dinners and laying out a weeks worth of clothing for the boys saved my sanity the last go-round. If I were to have a sale once a month (or every weekend!) then I would definitely need to put more routines in place to make sure that my family is not neglected when I'm HomeShedding.
I guess what I'm saying is this: A creative business looks like fun from the outside, and it is. But it's also work. And if it's work that you rely on for income, it can lose it's fun-ness pretty quickly. So surround yourself with people who support you and compliment your work style, get some routines in place to make sure that you don't negatively affect your family, and keep your chin up!
This post is part of
31 Days of Decorating with Junk: Vintage, Antique and Unique for your Home and Garden.
To follow along with
31 Days of Decorating with Junk,
enter your email address (top right) or become a fan on
Facebook
.
See you tomorrow!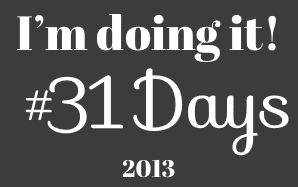 31 Days of Decorating with Junk Posts:
31 Days of Decorating with Junk Introduction
Farmhouse Style Front Porch
Modern Farmhouse Design
Repurposed Upright Piano
Our Exterior Makeover Reveal
Adjustable Game Table Makeover (In a Ballard Designs Whitewashed Style)
The HomeShed's September Sale & Fall Decor Inspiration
Proof that I'm a HardCore Junker
My Gallery Wall
HomeShed Sale Preview and Christmas Inspiration
Cute Green Dresser with Chalkboard Labels
My Favorite Paint for Antique Furniture
Kris's Cabin Tour
Essential Tools for Repurposing
Making a Custom Glaze
Fixing a Stripped Out Screw Hole
How to Make Your Home Your Own
Spray or Brush?
Five from the Archives
Owning a Junky Business Part 1
Owning a Junky Business Part 2
1840 House
Simple Vintage Halloween
Five (More) from the Archives
Crib Spring Repurpose
Owning a Junky Business Part 3
Quick Chair-Do
Pallet Wall Art
Not So Junky Basement
Owning a Junky Business Part 4
31 Days Wrap Up