How does new siding and new windows fall into the "junk" category? Well, I define "junk" as "vintage, antique and unique" and our house is definitely antique!
Built in 1907-08, out house was owned by the same family for 100 years before we bought it in 2008. However, for much of that time, it was a rental house, and it desperately needed updating and repairs when we bought it.
The siding and windows needed a lot of work, but we tackled the inside of the house first and the outside stayed like this.
BEFORE:
During our remodel, the exterior definitely got worse before it got better. We did most of the interior work ourselves, but finally hired someone last fall to replace the siding and windows.
Now brace yourself for the
DURING
pictures:
We lived like this for about 3 years. In our upstairs hallway, a cold breeze came through the floorboards to chill your toes in the winter. Bugs made their home inside the walls, then crawled through rotten window frames into our bedrooms. Dust from the gravel road filtered through and settled all over the house. It was not fun.
But finally, we hired someone to do the exterior for us in 2012. Fourteen new windows, replica porch posts and details, a new roof on the entryway, special order scallops for the bay window, and James Hardie cement board siding transformed the exterior of our house.
By this point, it was too late in the year to paint, so we had to wait until 2013. This June, the painters came and the exterior of the house was complete!
AFTER!
We had a hard time deciding whether to go with
BoothBay Blue (James Hardie color) or Red Barn (Sherwin Williams)
but (obviously) we decided to go with the blue in the end.
This fall, we had a decorative concrete company install new sidewalks.
And Bart built a retaining wall. We've started some landscaping but still have a lot to do. My friend from
Red Granite Farm
has been such a HUGE help deciding what to plant where.
I still need to paint the original front door. To see the original front porch up close,
click here.
That's not my cat, but that is my son. :) The cat belongs to a neighbor.
Next up: plant more grass.
So what do you think? A bit of an improvement, isn't it? We think so! I guess it was worth the 5 year wait!
This post is part of
31 Days of Decorating with Junk: Vintage, Antique and Unique for your Home and Garden.
To follow along with
31 Days of Decorating with Junk,
enter your email address (top right) or become a fan on
Facebook
.
See you tomorrow!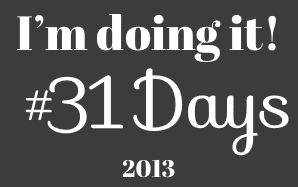 31 Days of Decorating with Junk Posts:
31 Days of Decorating with Junk Introduction
Farmhouse Style Front Porch
Modern Farmhouse Design
Repurposed Upright Piano
Our Exterior Makeover Reveal
Adjustable Game Table Makeover (In a Ballard Designs Whitewashed Style)
The HomeShed's September Sale & Fall Decor Inspiration
Proof that I'm a HardCore Junker
My Gallery Wall
HomeShed Sale Preview and Christmas Inspiration
Cute Green Dresser with Chalkboard Labels
My Favorite Paint for Antique Furniture
Kris's Cabin Tour
Essential Tools for Repurposing
Making a Custom Glaze
Fixing a Stripped Out Screw Hole
How to Make Your Home Your Own
Spray or Brush?
Five from the Archives
Owning a Junky Business Part 1
Owning a Junky Business Part 2
1840 House
Simple Vintage Halloween
Five (More) from the Archives
Crib Spring Repurpose
Owning a Junky Business Part 3
Quick Chair-Do
Pallet Wall Art
Not So Junky Basement
Owning a Junky Business Part 4
31 Days Wrap Up
Shared at:
Metamorphosis Monday
Thrify Decor Chick