Remember that
adorable adjustable table
? It had a slight problem – a wiggly top and screws that kept falling out.
Turns out, the screw holes were completely stripped out. So no matter how many times I tightened the screws, they just loosened up again. I even tried drilling new holes and using those instead…still became stripped out quickly.
But this was actually a quick fix, using toothpicks and wood glue.
All I did was dip a toothpick in wood glue, stick it in the stripped out screw hole, and break it off to the right height.
And do it again, and again, and again until the hole was absolutely full of gluey toothpicks.
And then repeat for all the holes.
I read that the glue not only holds the toothpicks in place, but it also expands the fibers of the wood, so when you're done, you'll have a strong, gluey-woody base to drill into. I was also told that wooden matchsticks work well, and that they are made of a harder wood than toothpicks.
I let this dry over night, and then sanded off the toothpick ends and screwed the base back into place!
This post is part of
31 Days of Decorating with Junk: Vintage, Antique and Unique for your Home and Garden.
To follow along with
31 Days of Decorating with Junk,
enter your email address (top right) or become a fan on
Facebook
.
See you tomorrow!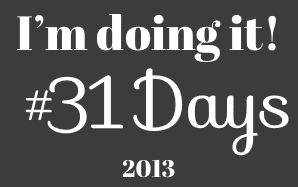 31 Days of Decorating with Junk Posts:
31 Days of Decorating with Junk Introduction
Farmhouse Style Front Porch
Modern Farmhouse Design
Repurposed Upright Piano
Our Exterior Makeover Reveal
Adjustable Game Table Makeover (In a Ballard Designs Whitewashed Style)
The HomeShed's September Sale & Fall Decor Inspiration
Proof that I'm a HardCore Junker
My Gallery Wall
HomeShed Sale Preview and Christmas Inspiration
Cute Green Dresser with Chalkboard Labels
My Favorite Paint for Antique Furniture
Kris's Cabin Tour
Essential Tools for Repurposing
Making a Custom Glaze
Fixing a Stripped Out Screw Hole
How to Make Your Home Your Own
Spray or Brush?
Five from the Archives
Owning a Junky Business Part 1
Owning a Junky Business Part 2
1840 House
Simple Vintage Halloween
Five (More) from the Archives
Crib Spring Repurpose
Owning a Junky Business Part 3
Quick Chair-Do
Pallet Wall Art
Not So Junky Basement
Owning a Junky Business Part 4
31 Days Wrap Up
Shared at:
Home Stories A to Z Tutorials and Tips