*This post originally appeared on
All Things Bright and Beautiful
in 2011 as part of Aubrey's "How to Make Your Home Your Own" series.
My husband and I have lived in our 100 year old house for about
3 1/2
5 1/2 years now. We have gutted nearly every room in the house and tried to make it beautiful and functional with a reasonable budget. From completely
remodeling the kitchen
to adding two sweet boys to our family, we are truly making this home our own!
Today, I want to focus on one small corner in our living room.
I decided to switch up a few of the accessories in this cabinet and thought it was the perfect opportunity to give you a little glimpse of how we have made our home our own.
1. We use old stuff. We love things with a story. A lot of our furniture is antique or vintage like this cabinet, and the pottery in it is old, too.
2. We use accessories that represent our interests. The antlers represent my husband's time researching tuberculosis in deer at the USDA labs, before we began raising turkeys.
Most of the books in the cabinet are by Louisa May Alcott, the author of Little Women, which is one of my favorite books.
The "A" represents our oldest son, Adam, and there is an "I" on the bottom shelf for the baby, Isaac.
My flute hasn't been played for a few years, but it was an important part of my life growing up, and is on the bottom shelf.
3. We use family heirlooms. The book on this shelf came from my great grandfather's farm and is titled "The Farmer's New Guide" (so incredibly appropriate considering the fact that we are farmers!) and next to the book is a set of binoculars that belonged to hubby's grandpa.
Trying to apply these three rules has helped us create a comfortable home that reminds us of the things we love.
This post is part of
31 Days of Decorating with Junk: Vintage, Antique and Unique for your Home and Garden.
To follow along with
31 Days of Decorating with Junk,
enter your email address (top right) or become a fan on
Facebook
.
See you tomorrow!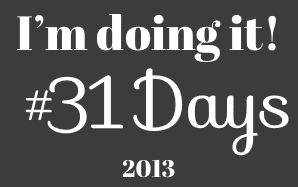 31 Days of Decorating with Junk Posts:
31 Days of Decorating with Junk Introduction
Farmhouse Style Front Porch
Modern Farmhouse Design
Repurposed Upright Piano
Our Exterior Makeover Reveal
Adjustable Game Table Makeover (In a Ballard Designs Whitewashed Style)
The HomeShed's September Sale & Fall Decor Inspiration
Proof that I'm a HardCore Junker
My Gallery Wall
HomeShed Sale Preview and Christmas Inspiration
Cute Green Dresser with Chalkboard Labels
My Favorite Paint for Antique Furniture
Kris's Cabin Tour
Essential Tools for Repurposing
Making a Custom Glaze
Fixing a Stripped Out Screw Hole
How to Make Your Home Your Own
Spray or Brush?
Five from the Archives
Owning a Junky Business Part 1
Owning a Junky Business Part 2
1840 House
Simple Vintage Halloween
Five (More) from the Archives
Crib Spring Repurpose
Owning a Junky Business Part 3
Quick Chair-Do
Pallet Wall Art
Not So Junky Basement
Owning a Junky Business Part 4
31 Days Wrap Up
Shared at:
Home Stories A to Z Tutorials and Tips