Welcome, Lazy Moms!
Lazy Mom is having a meet and greet and I thought it would be a perfect place to meet some other lazy moms, like me.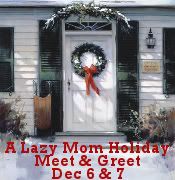 In addition to being a part time teacher, part time farmer, part time 100-year-old-farmhouse-remodeler and full time (although, lazy) wife, I am also a lazy mom to a 2 1/2 year old boy and am pregnant with another little boy!
Some examples of my laziness…
I make cookies from packages. It's the experience that counts, right?
My house usually looks like this:
It took me 2 1/2 years to get this project done:
I use this unfinished bathroom because I'm too lazy to walk downstairs in the middle of the night:
I've tried to train my son and hubby to help with housework, but it's just easier to do it myself (lazy!)
So there you have it. I'm a mom. And I'm lazy. If you're a lazy mom, go over to the meet and greet going on today and tomorrow, and meet some fellow LMs!!