Okay, friends, the time is finally here! The Pregnant Party is on!
I don't have much new to report…still feeling kind of sick in the evenings. At 16w 3d, I should be feeling better soon!!! I take 1/2 dose of children's benadryl when I start to feel yucky (around 5 or 6PM) and it helps me get some supper down.
I think I felt the baby move the other night. It was 3 AM and I'd been up to go to the bathroom. When I went back to bed, I couldn't fall asleep and then I noticed the little flutters. I haven't felt it again, though, so I might just be nuts. :)
My wrist has been bothering me lately. Did you know that carpal tunnel syndrome is more common in pregnant women? I think my wrist pain (left wrist) comes from carrying Adam around. I tend to bend my wrist funny and his weight puts a lot of pressure on it. I don't carry him a lot, but on our quest for a firefighter costume last week, I carried him across the entire mall when he was too tired to walk back to the car. And that's when it started hurting. So I got a brace and wore it for most of a day and overnight, and it was better for several days until I set my hand down funny while playing on the floor with Adam. So I'm wearing it again, today. For the next couple of weeks, I'll be helping chore the baby turkeys, which involves carrying around a plastic coffee can full of feed and dumping it carefully onto the feeders…I'll be wearing the brace again for that, as that is hard on my wrists even when I'm not knocked up!
Here's an article from Baby Center on carpal tunnel during pregnancy.
http://www.babycenter.com/0_carpal-tunnel-syndrome-during-pregnancy_234.bc?page=2
Okay, now it's your turn! Please link up any pregnancy related post, and make sure to put the button on your post, so others can find us! I will work on making a narrower button that you can put in your sidebar, too.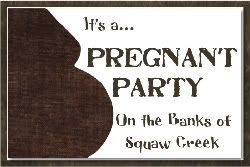 (To put this awesome button featuring my pregnant-with-Adam-belly on your post, copy and paste the html code in the scrolly box into the html or source tab when you are writing your post.)