Our first Pregnant Party will be next Thursday, Oct. 14th!
Any of you preggeronis out there can link up, and we can all get to know each other, and share the joys and miseries of pregnancy! Any pregnancy related post will do, including regular ol' pregnancy updates, ultrasounds, gender reveals, questions, etc. etc. I just ask that you put my button on your blog post, so other preggos can find us!
Tell your friends!
Can't wait to see you there!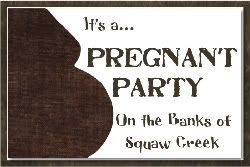 (To put this awesome button featuring my pregnant-with-Adam-belly on your post, copy and paste the html code in the scrolly box into the html or source tab when you are writing your post.)