Over at Infarrantly Creative, Beckie is hosting GREAT IDEA DAY!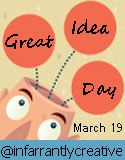 So here I am, posting the GREATEST idea I've ever had.
Okay, actually, it's not really my idea. I think it was in a magazine originally, and then I saw it in action at my friend's house.
What is it, you ask?
This!
And this!
And this one, too!
Yeah, so I neglected to take a before picture for this post. Oops! (Duh, Katie, what kind of blogger are you, anyway?)
But use your imagination.
Scenario 1: Basket full of baby "stuff." You know, a million lotions we used on the little buddy's eczema. A few bottles of tylenol, because we could never seem to find one when we needed it. The baby powder that we've NEVER used, and of course, that big blue suction-thingy from the hospital.
Now – the tylenol is easy to find, the lotions are all in one place, and they are all out of little buddy's reach on the back of his closet door. (Old house = regular closet doors.)
Scenario 2: Basket(s) on top of master bedroom dresser, full of JUNK. Yeah, junk, that apparently we need in the bedroom sometimes.
Solution. Put it in this thing. Whatever it is.
Need a highlighter for reading in bed?
Or some miscellaneous cables? Perhaps a tube of chapstick? Well, you can find those on the back of the MB closet door.
Scenario 3: Entry way closet. A giant pile of junk. (Yeah, more of it.) Remember how I forgot the before picture? These two shelves were stuffed full of cleaning supplies and dog paraphernalia.
(Dang, I just bought MORE toilet bowl cleaner because I thought we were out. oops!)
Okay, so is that not a GREAT IDEA! I love it! I want one in every room in the house. I got them at Walmart for $7 each, I think. I can't remember. :(
But anyway, go over to Infarrantly Creative and check out the other GREAT IDEAS!